Hey Ladies! Black Women Breathe focuses on holistic health & wellness while providing a space to breathe easy, together. No woman is an island. Community is essential for healing.
In this installment of Black Women Breathe, we will be working with aromatherapy and essential oils and their applications to support emotional and physical wellness. Just need a hug? Want to sit somewhere still? Need to look in the eyes of a person who understands? Interested in talking about holistic self care? Come on. :) We host this event in the hopes of connecting with and supporting other women in Indy. We can't wait to meet/reunite with many of you.
Housekeeping Notes: (have made a few adjustments safely hold space for every participant)
Every participate MUST register below. We had to put a limit on the attendance to make sure everyone has enough space to move.
You MUST arrive to the studio before 2:15 pm. There will be no entrace after that point. It may be helpful to arrive 10-15 min before 2pm so you have time to get signed in and set up for yoga without feeling rushed.
Please bring a yoga mat and dress comfortably.
$5 suggested donation.
Come as you are, wherever you are on your journey. No shaming, competition, or social hierarchy. We need this space. We need this time. We need one another.
Join us?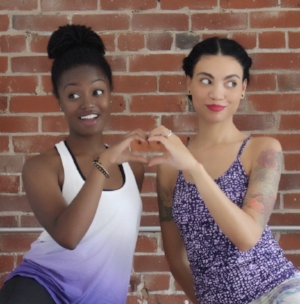 Charlie Redd and Lesley Jean Saligoe
FAQs
Is the event kid friendly?
This particular event is for the 18+ age group.
Where do I parking and how do I access the building?
The parking and access information will be on the electronic ticket that you get via email. Please read the email; we don't want anyone stranded outside!
What if I can't make it at 2:15pm?
If you will be running more than 15 min late for class, you will have to catch us at another date and time. Please add yourself to the Black Women Breathe Facebook group to stay posted on other Black Women Centered events in the Indianapolis area.
What should I bring?
Yourself, a friend, and a yoga mat for Meditation/Yoga.
Where can I contact the organizer with any questions?
heythere@charlieredd.yoga
Do I have to bring my printed ticket to the event?
Nope. Save the paper :)
What if I signed up but can't come?
We ask that you please cancel your registration to free up space for another sister/friend to attend. You can find all of the info about how to do that by clicking-> here